DieBuchSuche - die Suchmaschine für alle Bücher.
Alle Bücher für 9780007343751 - jedes Angebot vergleichen
Aus dem Archiv:





ISBN:
9780007343751

(?) bzw. 0007343752

, in Englisch, William Collins; HarperCollins, Vereinigte Staaten von Amerika, neu, E-Book, elektronischer Download
zzgl. Versandkosten
ebook Ausgabe. ePub edition. ebook Ausgabe. ePub edition.
Kategorie: eBooks > Belletristik
Schlüsselwörter: BELLETRISTIK,ROMANE,ERZAEHLUNGEN ,FICTION , GENERAL
Daten vom 18.01.2016 20:35h
ISBN
(andere Schreibweisen): 0-00-734375-2, 978-0-00-734375-1
Aus dem Archiv: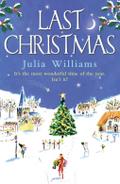 ISBN:
9780007343751

(?) bzw. 0007343752

, Sprache unbekannt, Harpercollins Publishers, neu
Versandkostenfrei
Last Christmas: It`s the most wonderful time of year. Isn`t it Discover the true spirit of Christmas with this seasonal treat for fans of Love, Actually and The Holiday. Contains a sneak preview of the sequel, A Merry Little Christmas.Catherine Tinsall is gearing up for Christmas - in the middle of summer. As the Writer in Chief on Happy Homes magazine, she is putting together a `perfect Christmas` competition, to remind readers of the festive season`s true meaning.In the sleepy Shropshire village of Hope Christmas, Marianne Mistletan enters with the suggestion that her village`s nativity play be held in the ancient chapel of Fitzcross Manor, home to the St Nicholas family.Catherine is completely entranced by the idea, and Marianne to her delight finds that she has won. Waiting in the wings to help Marianne organise the set design is the cool and charismatic Joe Carpenter, who may or may not be just what she wants for Christmas.Meanwhile, for Catherine, the Happy Homemaker image is wearing thin, as her fifteen-year old marriage appears to be in trouble. Then tragedy strikes and Catherine is forced to reassess her priorities, and work out what the perfect Christmas really means.And overseeing it all, is the figure of John St Nicholas, lord of the manor and perhaps, for some, a Christmas angel...For anyone who`s wondered whether Christmas is over-priced hype, think again... Englisch, Ebook
Daten vom 26.01.2016 23:13h
ISBN
(andere Schreibweisen): 0-00-734375-2, 978-0-00-734375-1
9780007343751
Finden Sie alle lieferbaren Bücher zur ISBN-Nummer 9780007343751 einfach und schnell und können die Preise vergleichen und sofort bestellen.
Lieferbare Raritäten, Sonderausgaben, Restposten und gebrauchte Bücher sowie antiquarische Bücher des Titels "Last Christmas" von Julia Williams werden vollständig erfasst.
gangbang story kavallerieschule hannover